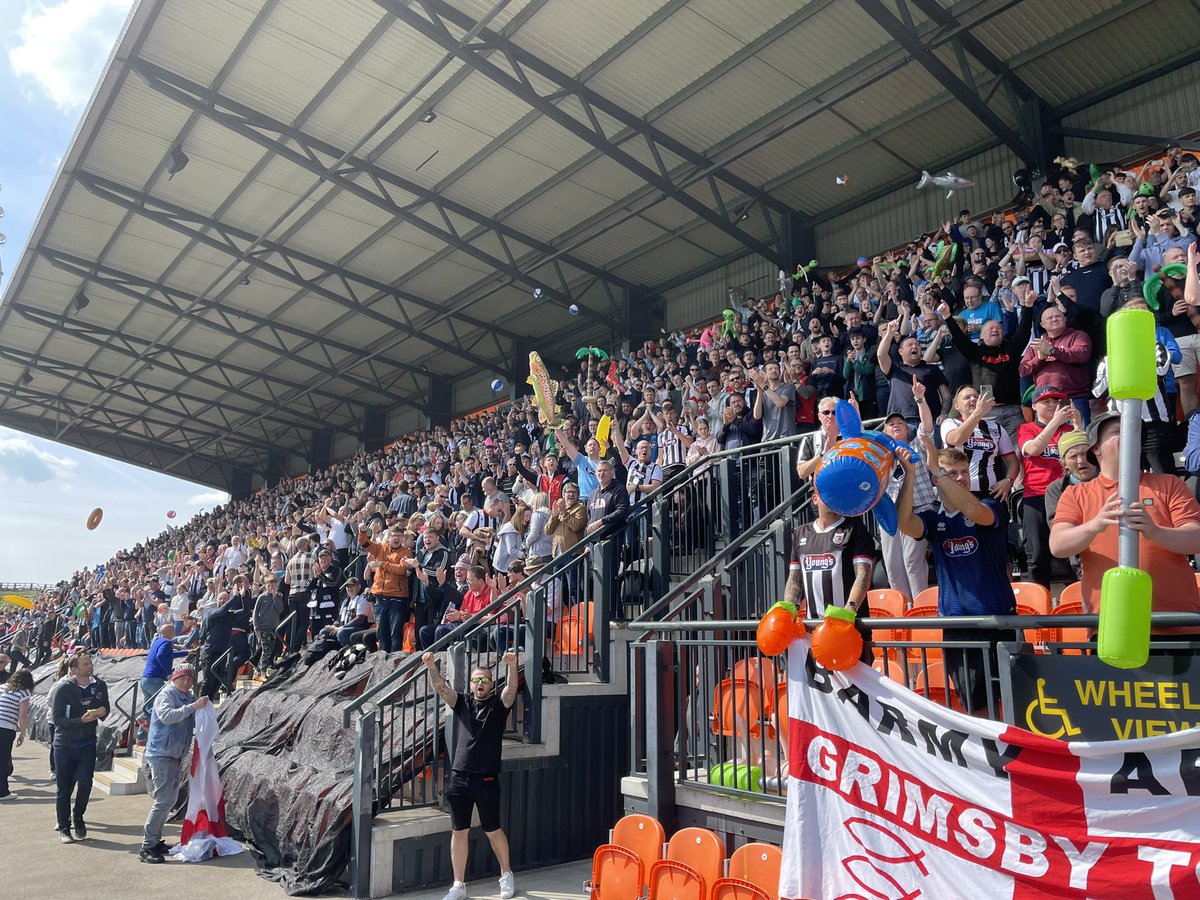 Skuffende første omgang av Grimsby. Varmt vær ga en tørr bane og Grimsby fikk ikke til noe spill mot svakt plasserte Barnet. Hele 1319 fans støttet The Mariners  med sine oppblåsbare venner, men det var heller dødt over Grimsby.
Michee Efete gikk tidlig av med en ankelskade for Paul Hurst som hadde gjort to endringer fra start.
Det var rett og slett noe nervøst over Grimsby og det var ikke ufortjent at Barnet kom foran etter 37 minutter da Adam Marriott dunket inn på volley etter at Waterfall hadde klarert opp i lufta på en dødball.
Etter pausen hadde vi langt mer trøkk etter at Abrahams kom inn på topp. Isteden doblet Barnet etter selvmål fra Luke Waterfall.
Grimsby dominerte mye av spill etter det, men det var ikke nok skarphet foran mål.
Så ny spenning i kampen da Andy Smith kriget inn en dødball.
Så like før ordinær tid ble det 2-2 ved Luke Waterfall.
Voldsom feiringa av målet og det ble stopp i spillet for å fikse nettet. Syv minutter ble lagt til da man kom i gang igjen etter 93 minutter. Her var Tristan Abrahams nærmest med et godt skudd, men det endte 2-2.
Barnet – Grimsby 2-2
The Hive Stadium, 2438 tilskuere
Mål: 1-0 Adam Marriott 37′, 2-0 selvmål (Luke Waterfall) 52′, 2-1 Andy Smith (Abrahams) 82′, 2-2 Luke Waterfall 90′
Grimsby (4-4-1-1): 21. Max Crocombe – 2. Michee Efete (32. Jordan Cropper 21′), 6. Luke Waterfall, 26. Andy Smith, 3. Adam Crookes – 18. Erico Sousa, 35. Joey Jones (9. Tristan Abrahams 46′), 15. Harry Clifton, 11. Sean Scannell – 28. Gavan Holohan (4. Ben Fox 71′) – 29. Ryan Taylor. Innbyttere: 12. Emmanuel Dieseruwve, 25. Jordan Maguire-Drew.
Gule kort: Luke Waterfall 37′, Andy Smith 80′
Det har gått litt sykdom i troppen denne uken og et par er usikre der. John McAtee blir ikke klar her etter en skulderskade som må trenes opp, det skal være snakk om å operere i sommer. Arjan Raikhy håpes å kunne rekke de siste kampene denne sesongen.