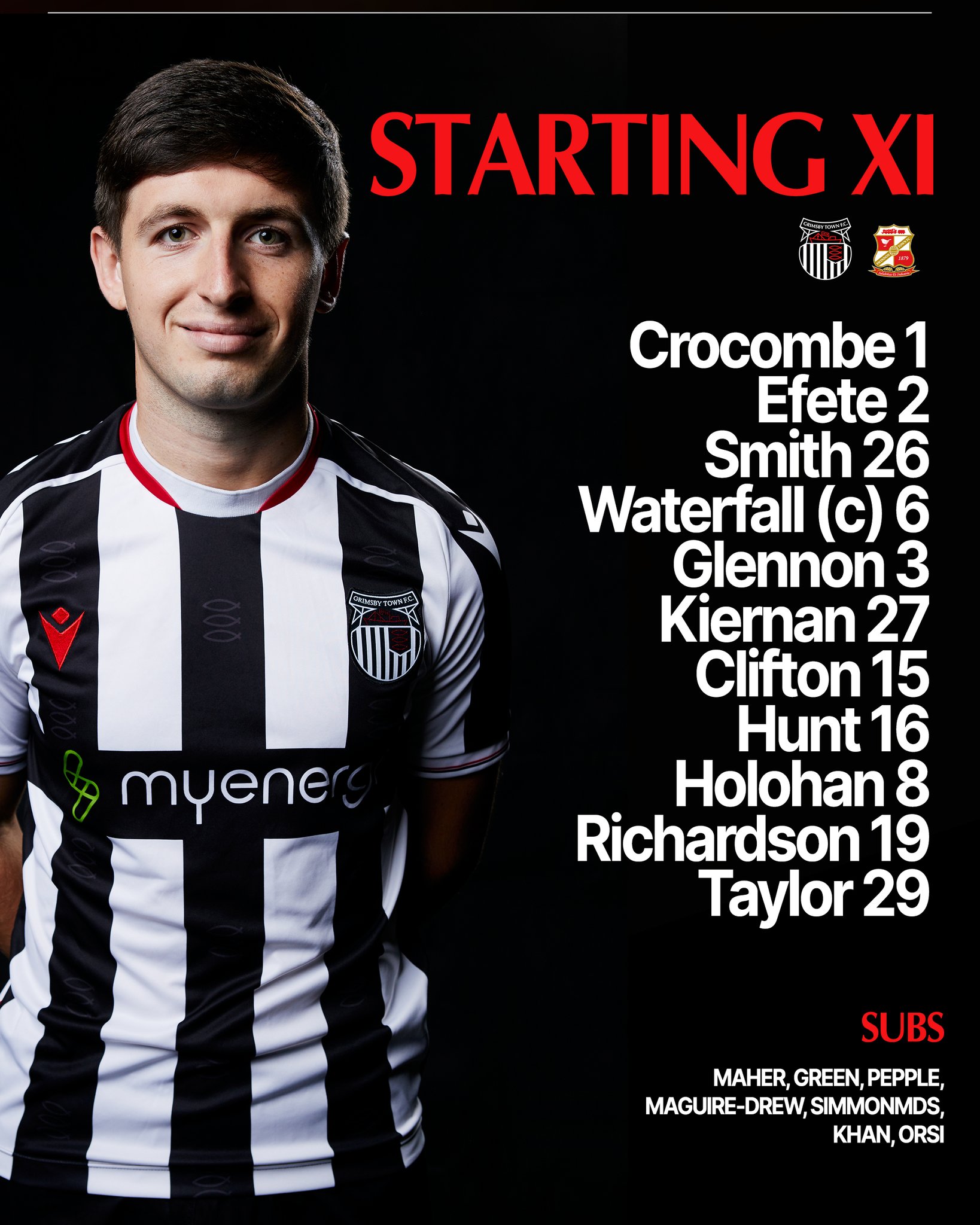 To lag som ikke har tapt siden åpningsrunden dette og man er tabellnaboer like utenfor Play Off.
Swindon et godt fotballag og dem tok ledelsen på ettertrykk av en corner. Crocombe reddet flott først, men ga retur på oppfølgeren før Luke Jephcott satte fra kort hold.
Noe mot spillets gang utlignet man ved Taylor da Cliftons skudd tok i Richardson og havnet i beina til spissen vår. Han ristet av seg mannen og satte under keeper til 1-1.
Like før hvilen var man under igjen da Ronan Darcy fikk en 45-ball etter at Smith hadde timet feil på hodet i forkant.
Grimsby var bedre etter hvilen med Khan inn og en formasjonsendring. Nytt håp ble gitt da Saidou Khan ble utvist for to gule kort etter 63 minutter.
Swindon låste nå døra og man skapte faktisk mer da man var elleve mot elleve.
Så inn i overtiden kom det sjanser på rekke og rad da vi flyttet frem Waterfall, men keeperen deres reddet alt som kom. Seieren på hjemmebane i serien lar dermed vente på seg.
Grimsby – Swindon 1-2
Blundell Park, 6805 tilskuere
Mål: 0-1 Luke Jephcott 13′, 1-1 Ryan Taylor (Richardson) 25′, 1-2 Ronan Darcy 44′
Grimsby (4-4-1-1): 1. Max Crocombe – 2. Michee Efete, 6. Luke Waterfall, 26. Andy Smith, 3. Anthony Glennon – 27. Brendan Kiernan (11. Otis Khan 46′), 8. Gavan Holohan (20. Danilo Orsi 77′), 16. Alex Hunt, 15. Harry Clifton – 19. Lewis Richardson (7. Jordan Maguire-Drew 71′) – 29. Ryan Taylor (23. Bim Pepple 77′). Innbyttere: 4. Kieran Green, 21. Keke Simmonds, 31. Niall Maher.
Gult kort: Anthony Glennon 48′
Kieran Green trente igjen på torsdag, han har slitt med en muskelskade i lyskeområdet. Bryn Morris er ute med hamstringskade i noen uker til. Jordan Cropper sies også å være ute av usikre kilder. Bim Pepple og Otis Khan gjorde comeback fra skader i midtuka. Keke Simmonds fikk en liten smell sist og trente ikke torsdag. Sean Scannell håper å være aktuell om et par måneder, men synes å ha en korttidskontrakt til januar. John McAtee ventes ei heller klar før juletider etter skulderoperasjon.
Paul Hurst innrømmer at Ryan Bennett trener med dem. Stopperen er kontraktløs etter å ha blitt frigitt av Swansea.
Med flere tilbake fra skader og de siste signeringene skal det nå være mer aktuelt å låne ut de unge spillerne til lavere divisjoner. Her kan noe skje de neste ukene.
Radio | Mariners TV | Lokalavisa | Fakta | Tabell