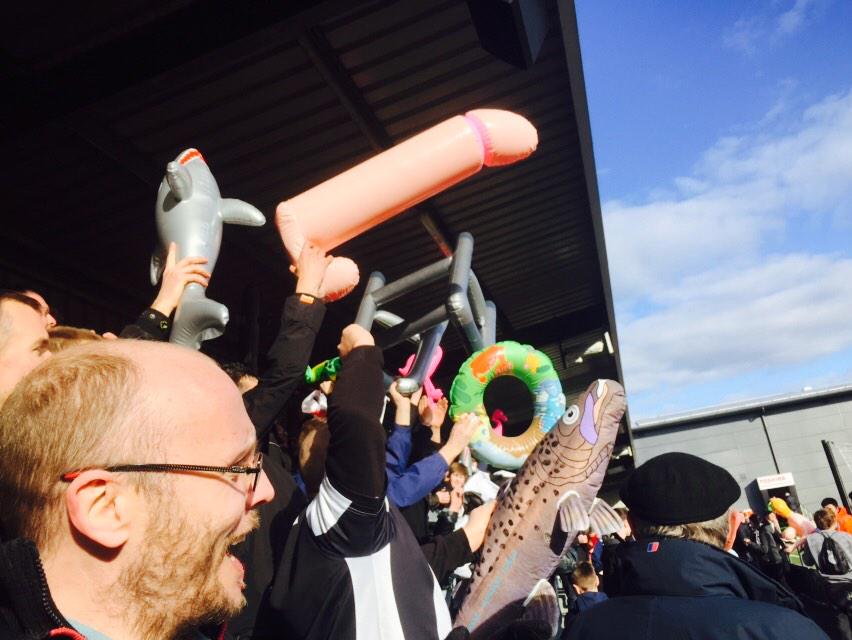 Fisken krølla seg i panna. Jesus stod opp igjen. Fuglen Føniks stod opp fra asken. På lørdag kom oppblåsbare Barbara til live igjen da 969 elleville Grimsby-supportere hadde tømt skapet for oppblåsbare leketøy til bortekampen i London.
The Mariners ledet fortjent til pause etter Christian Jolleys første scoring for klubben. Barnet tok over i andre omgang og det var ikke ufortjent da dem utlignet. På tampen kom Grimsby til hektene – Disley og Pittman scoret to deilige mål på overtid og ga Grimsby seieren 3-1!
Barnet – Grimsby 1-3
Hive Stadium, 2756 tilskuere
Mål: 0-1 Christian Jolley (Mackreth) 26′, 1-1 Conor Clifford 57′, 1-2 Craig Disley (Arnold) 90′, 1-3 Jon-Paul Pittman (John-Lewis) 92′
Grimsby (4-4-2): 1. James McKeown – 6. Carl Magnay, 5. Shaun Pearson, 22. Aristote Nsiala, 35. Gregor Robertson – 7. Jack Mackreth, 8. Craig Disley, 16. Craig Clay (19. Daniel Parslow 91′), 20. Nathan Arnold – 14. Lenell John-Lewis, 34. Christian Jolley (18. Jon-Paul Pittman 70′). Innbyttere: 4. Scott Brown, 10. Ross Hannah, 31. Hamish Watson.
Gult kort: Craig Clay 21′, Gregor Robertson 85′, Craig Disley 91′
Oliver Palmer er ennå ute, mens Scott Brown og JP Pittman muligens rekker det. Det har vært litt sykdom i troppen denne uken, Aristote Nsiala var blant dem som slet.
Etter å hentet inn en drøss med spillere den siste tiden har den gode formen stoppet opp. Er moralen i bunn eller har man rett og slett møtt god motstand? Lørdag spiller man borte mot serielederen Barnet. Det blir ikke lett, men vi slo dem jo hjemme for en drøy måned siden.