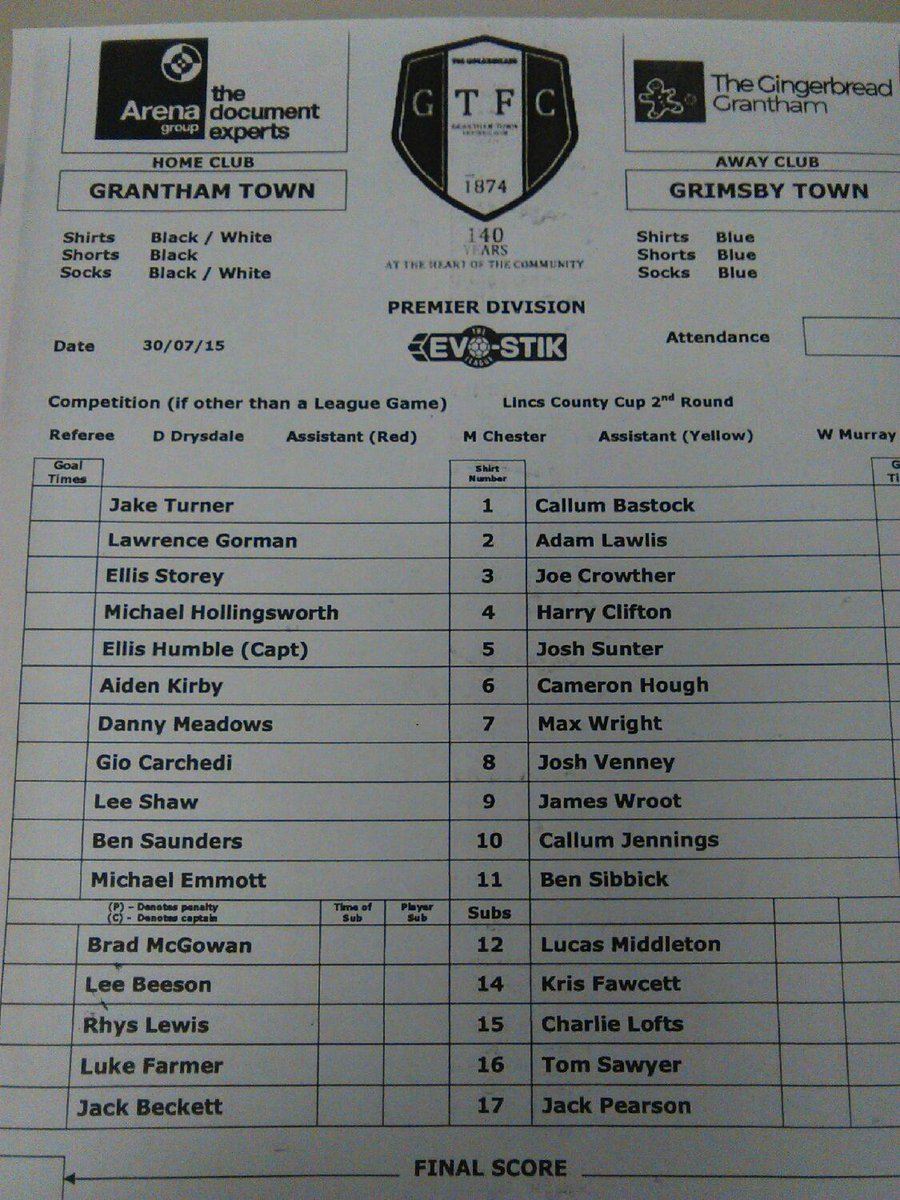 Grimsbys juniorlag fikk det tøft mot Grantham, men reiste seg i andre omgang og James Wroot utlignet. 1-1 holdt seg ut og man gikk rett på straffekonkurransen.
Her ledet Grimsby 2-1 etter tre runder, men hadde maks uflaks og tapte 3-2 etter at Josh Venney skjøt den siste straffen i tverrleggeren!
Grantham – Grimsby 1-1 (3-2 etter straffer)
The Kesteven Sports Stadium, 50 tilskuere
Mål: 1-0 Ben Saunders 23′, 1-1 James Wroot 66′
Straffesparkkonkurranse:
1-0 Lee Beeson
1-0 BOM (Grimsby)
1-0 BOM (Brad McGowan)
1-1 Grimsby
1-1 BOM (Danny Meadows)
1-2 Grimsby
2-2 Jake Turner
2-2 BOM (Grimsby)
3-2 Ellis Humble
3-2 BOM (Josh Venney)
Grimsby (4-4-2): 13. Callum Bastock – Adam Lawis (Kris Fawcett 80′), Joe Crowther, 21. Josh Sunter (Thomas Sawyer 63′), Ben Sibbick, Jack Keeble – Cameron Hough, 15. Harry Clifton, 17. Josh Venney, Max Wright (Lucas Middleton 35′) – James Wroot, Callum Jennings. Innbyttere: Charlie Lofts, Jack Pearson.
Juniortrener Alan Lamb ledet juniorlaget med Hurst og Doig som bistand i torsdagens cupkamp mot Grantham Town fra nivå syv. Dette er andre runde i Lincolnshire Senior Cup hvor Town er regjerende mestre. Turneringen har blitt avholdt siden 1881 og The Mariners og Lincoln har begge vunnet turneringen 38 ganger.