At least two Norwegians will attend the Wembley final on Sunday.
The Norwegians probably got the biggest contigent of abroad fans. The fan club got 38 registrated members on their website grimsbynorge.com, but the amount of support are probably at an even larger scale.
Those fans having confirmed going to Wembley next week are Geir Myklebust and Tarjei Solum Grimstad.
Trondheim based Myklebust has followed the club through thick and thin since the late 80's when the club was on an up gaining two successive promotions under Alan Buckley.
«I got my ticket in the mail today. I will sit in block 108,» he confirmes to grimsbynorge.com.
Tarjei Solum Grimstad, from Tønsberg, meanwhile has heritaged his interest from his father that got hooked once he understood there was a club named almost the same as himself.
In 2008 seven Norwegians made the trip to the Johnstone Paint Trophy and we even made an honourable mention on Guardian's podcast.
Our adopted Swede Ulf Hansson will also make the trip. Having followed the club since the mid 70's Ulf has seen Grimsby live ten times! «I got my interest for Grimsby when I saw them at our TV-show Tipsextra. They lost, but I think they played well.»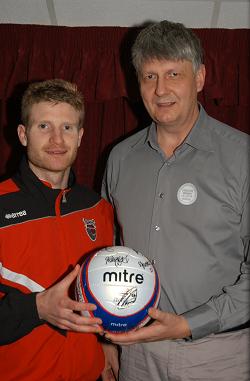 The whole world will have a meet up at Wembley it now sounds. Reports from France, Belgium, Australia and Canada tell stories about fans making the journey.